Welcome to Farmers Family
IIM-Lucknow incubated agritech startup
Farming has been in the blood of the promoters of Farmers Family. Their ancestors had humble beginnings, being involved in agricultural practices in rural India. The promoters, however, have been born and brought up in cities and are first generation entrepreneurs, with one trait in common – they are all passionate travellers and have deep interest in conceiving and incubating business ideas. Our directors are from Hospitality background,  Chartered accountant and ex-Bureaucrat with deep understanding of handling administration, operations and financials.
It was during one such journey to the Indian country-side that the idea of Farmers Family was born. The deep travels into the villages exposed the abysmal living conditions of the farmers, despite the enormous hardwork they put into their lands. Over the years, this hardwork has reaped little or no improvement in their quality of living. On the other hand, people in the cities are paying a high value for the produce, but are still deprived of fresh and healthy items to eat. Farmers Family hopes to address both these critical scenarios and fashion a bridge between the farm and table. Farmers Family is an initiative which aims to provide healthy and quality farm produce directly from the farms to consumers. It focuses on building an inclusive community of farmers and consumers, while also creative awareness around healthy lifestyle and food habits.
Our corporate office and distribution centre is located in the NCR region of Delhi and team has a great combination of farmers and professionals from financial, marketing and administrative background. Our Poly house and Bee Keeping Farms are located at Hapur, Aligarh, Bulandsahar and Muzzafarnagar, all in Uttar Pradesh. Our fruits and grains comes from Uttarakhand. Over the years, we've had a list of satisfied Customers, Farmers, Craftsman who believes in our philosophy i.e Quality is key to happiness. We are registered with Ministry of Commerce & Industry, MSME, FSSAI and other government regulators.
Why us ?
Processing Method adopted : Inhouse state of art machines being used to hygienically clean and pack products with strict 'No Bare Hand Touch' Policy after washing.
Quality Control: Our team of agronomist and quality control keeps a strict watch on the production, procurement, processing and packaging to ensure compliance with highest quality standards.
Strict compliances for Vendors and Regular Quality Checks : For Products and Production Farms / Units.Code of Conduct for establishment and the team to maintain hygiene, quality and customer satisfaction.
Cordial relationship with farmers: We specialises in developing close relationships with the farmers and give them better prices to ensure quality produce.
Farm and Distribution centre visits: Invitation to visit our farms and distribution centres to get a first-hand experience of how we produce, process and serve the best at your doorsteps.
Technology driven: Appropriate Mechanism to prevent post harvest wastage Technology driven business with minimum human interference
Fresh & Healthy Produce
Hygienically Machine cleaned & packed
Live Farming & Distribution Center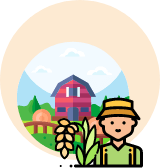 Farmers Welfare

Our Mission
Our mission is promote fresh fruit, vegetables and own branded grocery retails business with quality and consistent supply as its cornerstone.  Farmers are integral part of our ecosystem and we have entered into long term relationship with the farmers. Our simple motto is 'We farm. You eat.' Our products are sourced directly from farms and led to consumers after being thoroughly cleaned with ultrasonic technology and being hygienically packed at our production units by state of art machines. Our valued customers are aware citizens who has deep concerns about the hygiene and quality of food they consume to keep themselves healthy and safe. We will have varied distribution channels, through our e-commerce website, app, moving e-Carts and franchise stores.
Our Vision
Our vision is to make available wide range of fresh fruits, vegetables and other items produced under our supervision to the consumers at various locations throughout India, periodically, directly from farms, right to their door step, just a single click away. We hope to became the leader in our line of business, where farmers are the leaders and consumers are the owners. Through the power of modern farming and packaging practices, Farmers Family aspires to ensure the delivery of fresh and fit produce to consumers. We are also driven with the goal of leading farmers to prosperity by empowering them with knowledge and ensuring a fair price for all their produce. Our efforts will be to bring farmers and consumers closer to have respect and gratitude for each other.